Thai Yoga Massage – Passive Yoga
TRADITIONAL THAI YOGA MASSAGE
"Thai massage" and the "Thai yoga massage" are ancient healing systems combining acupressure, Indian Ayurvedic principles, and also assisting yoga postures.
When you think of massage, you probably expect to be a passive participant — lying under a blanket as a masseuse presses and kneads your tight muscles. However, a Thai massage is a whole different experience. Yes, there's a masseuse using his palms to knead your muscles, but you'll also be twisted, stretched and have feet, thumbs and fist work your body. Asanas, or yoga poses, are also part of this Eastern massage tradition.
There is no need to take off clothes or to expose the skin, except maybe the socks for receiving the full effect on the feet. Clothes should be light and wide enough as for practicing e.g. Yoga or gymnastics.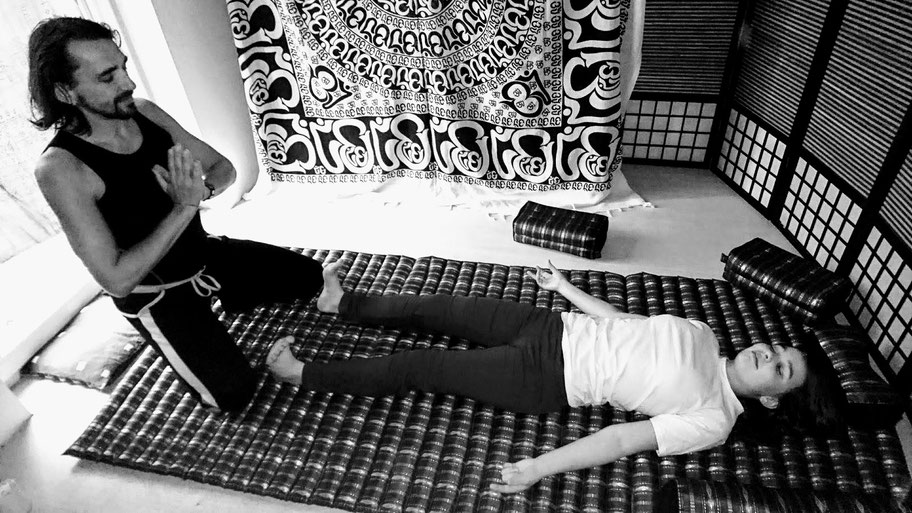 It may differ from the massage techniques to which you're accustomed, but Thai massage can be just as beneficial — if not more so. The practice promotes positive energy circulation, so you feel balanced and rejuvinated. Thai yoga massage has numerous other benefits too, including reduction of pain and stress.
Through the meditative attitude, the transformation occurs within a space of mindfulness and pure intention. The Giver doesn't aim to heal rather aiming to help the receiver believing he can and will be healed. Though the connection with the Divine, the healing process happens all by itself.
What Traditional Thai Massage is not
Hearing "Thai Massage", sometimes people would think of Bangkok's famous nightlife and the massage parlours which offer services quite different from genuine massage. However, this is about "Traditional Thai Massage" or "Ancient Massage" (Nuad Boran) which can look back at a long history of therapeutic healing founded 2500 years ago by Jivaka Kumar Bhaccha, the Buddha and personal physician to the Maghada King Bimbisara. Looking back at its tradition it is very clear that it was never seen as a mere job. but was always considered to be a spiritual practice, closely connected with the teachings of the Buddha. Until fairly recently it was the Wat, the temple, where massage taught and practiced. A truly good masseur performs his art in a meditative mood, starting with a meditative prayer, to fully center himself on the work he is about to. And he works with full awareness, mindfulness, and concentration.
True Thai massage is giving from the heart with compassion and to have a deep understanding of the other person's suffering. We're all  one.
Through the meditative attitude, transformation occurs within a space of mindfulness and pure intention. It`s based upon the buddhistic principles
Metta – Loving-kindness      Karuna – Compassion     Mudita – Joy      Uppeka – Equanimity
Thai Yoga Massage is a Sacred Dance. It is a holy communion between two people used to unblock energy stagnation. It is essentially an ancient Eastern healing technique used as a tool to awaken our spiritual flame.
BASED ON INTENSE PRESENCE, THE QUALITY OF SENSUAL TOUCH, DEEPLY CONNECTED
Only a spiritually aware masseur giviing from the heart is able to treat different people according to their different needs. Without such higher consciousness, massage becomes mechanical and loses much of its power.
Silvio lives and loves and teaches the Thai Massage and it`s base prociples as an effective development tool for receiver and giver and for physical and mental well-being, towards  true awakening.