Dynamic Osteopathic Thai Yoga Massage
Dynamic Passive Yoga
You will just enjoy and deeply relax. This is a very special and masterfully given treatment, hard to find anywhere around Luxembourg. Receivers afterward usually feel a sense of lightness, ease, feel more spacy with a inner stillness, peace, a kind of constant joy. Many receivers had there first deeper meditative experience every during such treatment.
A short Dynamic Thai is a perfectly ideal opening preparation for receiving a energy healing treatment such as Reiki or Pranic Healing as it removes energetic blockages and stagnations, opens the energy lines and brings the Chakras into receiving mode, so all the love is allowed freely to flow in.
You`re first 15 Minutes you receive for free. You`ll gain a very good idea and feeling within that timeframe for what you`re going to pay. It should feel rather like an investment into yourself.
A initial full body treatment usually takes around 90 Minutes. In case of long-time hold aches, discomfort, chronic issues, issues with intestines or scar tissue please bring 2 hours the first time.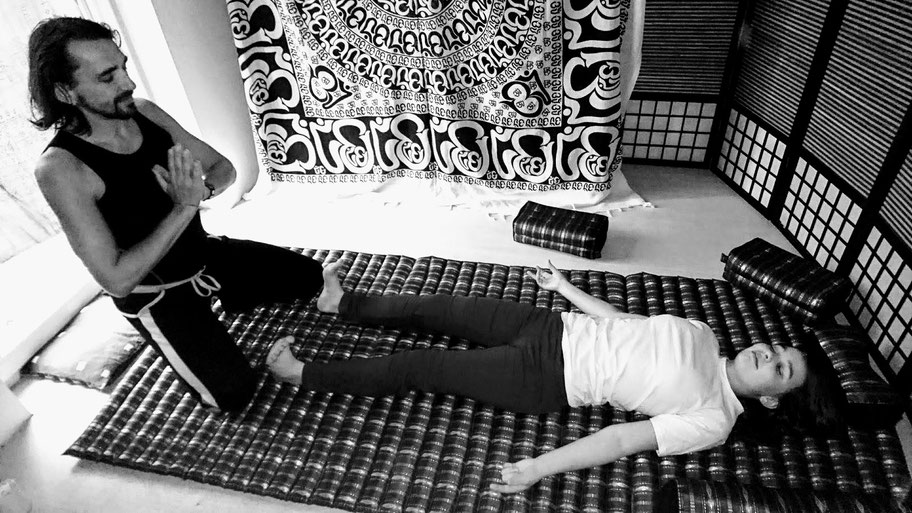 Through the meditative attitude, transformation occurs within a space of mindfulness and pure intention. It`s based upon the buddhistic principles
Metta – Loving-kindness
Karuna – Compassion    
Mudita – Joy
Uppeka – Equanimity
Thai Yoga Massage, especially in the Synamic style, is a beautiful sacred dance. It is a holy communion between two people used to unblock energetic stagnation. It is essentially an ancient Eastern healing technique used as a tool to awaken our spiritual flame, awakening to our true self.
BASED ON INTENSE PRESENCE,
THE QUALITY OF SENSUAL TOUCH,
DEEPLY CONNECTED WITH SPIRIT
A spiritually aware therapist giviing from the heart is able to treat different people according to their different needs. Without such higher awareness through intense presense, a massage treatment becomes merely mechanical and loses much of its power.
Silvio lives and loves and teaches the Thai Massage and it`s base prociples as an effective development tool and guide for receiver and giver, for their physical and mental well-being, towards true awakening.
Dynamic Osteopathic Thai Yoga Massage
Rhythm, Continuity, Joy and Happiness
The Dynamic Thai Massage combines the principles of Traditional Thai Massage with rocking, rhythmic and modern osteopathic principles as oscillatory techniques.
Just as nature is characterised by seasons and cycles, each person is a living microcosm of rhythmic patterns such as breathing, heartbeats, peristalsis, cell division and hormonal cycles. The sacred dance of Thai Massage is elaborated upon with a range of movement to create fluidity, continuity and release.
The treatment effectively shifts stagnation in the physical and energetic pathways, including life force energy, circulatory flow, nerve conduction, spinal mobility, and muscular and fascia structures. Often injury and deep holding patterns are healed as the mind and body are lulled into singing a different song.
Rhythm, Continuity, Joy and Happiness
Benefits for  the Giver
* improving fluidity, precision and transitions in the massage
* creativity, joyful and happiness while working
* developing the touch while working on the mechanic, liquid and
energetic levels
Benefits for the Receiver
* recovering mobility and freedom in his/her musculoskeletal system
* improving the fluid circulation (blood and lymphatic systems)
* re-establishing a good energetic circulation
* releasing the nervous system
Dynamic Thai is  Anatomy applied to dynamic movement.