When massaging a baby it stimulates her central nervous system causing a chain reaction which makes her brain produce more serotonin which makes her feel well and less cortisol which gets produced in response to stress. Baby's heart and breathing rate goes down and Baby becomes more relaxed and balanced as a result.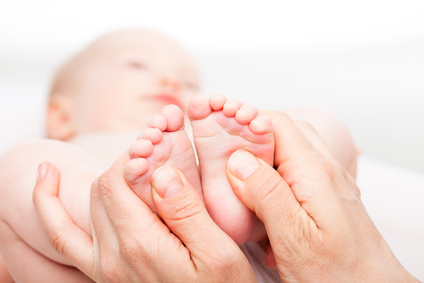 SO MANY BENEFITS
Studies have shown that massaging an infant can reduce crying and fussiness, help the child to sleep more peacefully, reduces constipation and colic. It probably even boosts a baby's immune system. Regular Baby massages is good for his emotional well-being too.
EMOTIONAL WELL-BEING
Giving your infant regular massages is very good for his emotional well-being too. Lovingly touch and rhythmic movements are among the most powerful forms of communication between babies and their parents. 
PARENTS FEEL IN CONTROL
Giving the baby a gentle rubdown can help parents feel more in control. It will help you learn how to read your baby's signals and respond better to his unique needs.